Augusta Precious Metals Review - The Pros & Cons
Disclosure: Our content does not constitute financial advice. Speak to your financial advisor. We may earn money from companies reviewed. The owners of this website may be paid when you complete a form, click a link or call a phone number. The content on this website, including any positive reviews, may not be neutral or independent.
Gold and other precious metal IRAs are an investment and carry risk. Consumers should be alert to claims that customers can make a lot of money in these or any investment with little risk. As with any investment, you can lose money and past performance is not a guarantee of future performance results. Consumers should also obtain a clear understanding of the fees associated with any investment before agreeing to invest.
Our content is intended to be used for general information purposes only. It is very important to do your own analysis before making any investment based on your own personal circumstances and consult with your own investment, financial, tax and legal advisers.
Add a header to begin generating the table of contents
Augusta Precious Metals is a company designed to enhance the retirement process of anyone looking for either a diverse portfolio or an educated mind. Augusta offers their users the ability to create a new type of investment account, the self-directed IRA. Thanks to the Tax Payer Relief Act of 1997, American taxpayers can buy and manage their own physical gold and silver. Augusta Precious Metals takes advantage of this unique opportunity to offer their customers an easy way to diversify their retirement accounts.
Owning physical precious metals is not the only thing that Augusta specializes in as they also have a heavy focus on education. Precious metals and where they go in your retirement account can be a complicated subject, luckily Augusta has Devlyn Steele as the Director of Education who can instruct clients with his extensive background. Education is important to the company, they have a video library and several articles with helpful tips on how to avoid scams. Augusta Precious Metals' focus on both education and a diverse retirement account makes them a solid candidate for investors at any level.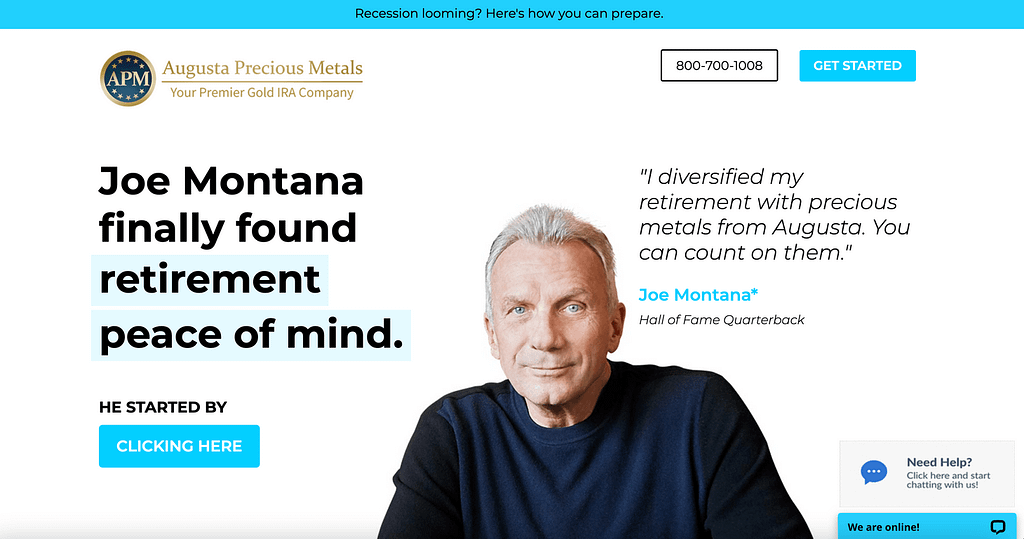 The Benefits Of Working With Augusta Precious Metals
While there are other retirement based companies that sell gold and silver, none of them reinforce their service with access to professionals. At Augusta Precious Metals, anyone can see a whole team of people for help for the lifetime of their account. That means that you can get real advice from legitimate professionals even after purchasing your bullion. Better yet, the experts you can reach out to are led by a Harvard-trained economist. This concentrated effort on a deeper understanding of what investors may get themselves into separates Augusta from the competition. 
While there are a number of reason to work with Augusta Precious Metals, there are a few that investors should pay attention to:
Gold IRA: With the Gold IRA, investors finally have the chance to own and manage their own physical stock of gold or silver. Through the previously mentioned 1997 Tax Payer Relief Act, participants in this plan can still benefit from tax-advantaged savings as well. This is a great option for any investor seeking diversity in their portfolio. All you need to do is open up your new self-directed IRA, fund it and buy your very own gold and silver!
Common Gold Bullion: As Augusta Precious Metals sells physical gold and silver, they must make sure it is up to a certain standard. Gold coins are valued based on their gold content and weight with their value being confirmed by the mint they come from. Augusta sells a variety of coins in several different sizes as well so investors can choose the exact coin and weight for their own personal retirements. Some of the coins on offer are the Gold American Eagle, Gold American Buffalo, and the Gold Canadian Maple Leaf. The Gold American Eagle comes in four different weights, from a whole ounce to a tenth of one. Each of these options reinforces the fact that having a diverse portfolio is not only smart but accessible.

 
Common Silver Bullion: While most people think only of gold when it comes to precious metals, they forget about the dependability of the world's second most definitive metal. Top quality is often referred to as the 'gold standard', but what If I told you that there were several different times in the market where silver actually out performed gold? Citing

CPM Group

, we can see clearly that gold might not always be the victor. Silver is incredibly reliable in the market, thanks in part to its purity. It must be at least 99.9% silver to be considered "pure" as there is a standard of purity on any precious metal coming out of a mint. Only American Silver Eagles and Canadian Silver Maple Leafs can be included as physical silver in an IRA as well. I know you're excited about that chunk you found in your backyard, but it has to be minted first.

 
Premium Gold: Augusta Precious Metals not only sells IRA eligible coins but also premium gold coins that you may collect at home. While the government has to have a standard on what counts as an investment you don't have to! Augusta has a variety of fun looking coins that work perfectly as an at home investment or interesting gift! From the 2018 Royal Mint .25oz

Gold Year of The Dog

to the classic $5

Indian Coin

, you can choose the right metal for your collection!
Premium Silver: Gold isn't the only metal investors can collect at home. Silver is another reputable option when it comes to saving up on your own. Many of the more premium silver coins are sold out, showing their unique popularity. Some of the non-IRA silver coins include the

Ben Franklin half dollar

and the brand new

2021 Royal Canadian Mint 1.25oz Silver Soaring Eagle

. Silver coins are a great and affordable way to start both a coin collection and retirement account!
IRA Eligible Coins: With the variety and array of different precious metal coins, it can be hard to tell which ones are for what purpose. Thankfully, Augusta Precious Metals has a section on their website detailing exactly which coins are IRA eligible. When precious metals are being invested in in their physical form, there are certain standards they must adhere to to assure their eligibility. Gold coins and bars must be at least 99.5% pure to be in an IRA unless they are the exception, the American Gold Eagle coin which can come in at a much lower fineness of 91.67%. Silver does not have any exceptions, meaning all silver coins and bars in an IRA must have a pureness of 99.9%. While these rules may make investing in precious metals seem complicated, Augusta Precious Metals takes care of most of the work for you so you can focus on your future!
IRA Processing Department: While not an actual product you can buy or sell, the IRA processing department of Augusta Precious Metals is one of my favorite reasons to work with them. I will be the first person to tell you nothing is worse than paperwork, especially paperwork regarding taxes and retirement planning. Augusta Precious Metals knows how frustrating that paperwork can be for the untrained investor and does it for you. If someone doing your job for you isn't' a key reason to work with them I don't know what is. The order desk will take the time to walk you through both gold and silver options and when you are ready they will call you to finalize whatever purchase you have in mind. Shipping fees are covered and the shipping department will work hard to make sure your order is headed to the right place. Finally, even after you've received your order and the process is finished, Augusta Precious Metals will still retain you as a customer. Being a customer allows access to a lifetime team of professionals who are experts in anything related to buying and selling gold or silver.

 
What To Know Before You Buy:
As with any type of investment, there are certain risks consumers should be mindful of before they make their purchase. First and foremost, every financier has to understand that while gold is a reliable investment it may not always be profitable. Sometimes the traditional markets can grow much faster than gold as well, leaving some buyers feeling like they chose the wrong opportunity. Gold has been around for a very long time, leading many speculators to believe that it cannot be as volatile as other types of investments such as common stock. This is a good fact for anyone hoping for stability but a risk for anyone looking for exponential growth. While gold has its upsides, it also has potential downsides anyone responsible should look out for. 
Augusta Precious Metals Reviews

The opinions of others about a business can help you decide whether to become a customer. In order to find out what people think about Augusta Precious Metals, we looked to the most commonly trusted sources on the web. As of the time of writing, things looked like this:

Better Business Bureau

BBB gave Augusta Precious Metals an A+ rating based on 109 reviews, with an average rating of 4.96/5.

Business Consumer Alliance

Augusta achieved a AAA rating and five stars from the BCA based on 94 reviews.

Trustlink

Augusta received a 5-star rating from Trustlink based on 283 reviews.

Google Reviews

Augusta's Google Reviews rating was 4.9/5 based on 221 reviews.

As far as we could tell, Augusta Precious Metals had no public complaints.
Augusta Precious Metals Complaints

As far as we could tell, Augusta Precious Metals had no public complaints.
Final verdict

The ability to invest and have skin in the investment game is a newly accessible option to millions of people. These newfound hopefuls see opportunity in the world but don't know where to start: should they ask their bosses about the work 401k or maybe they should buy some crypto on their own? While these options may seem suitable for fresh consumers, the best investment comes with education. Not only does Augusta Precious Metals offer a reliable and steady investment strategy with their various IRA eligible coins, but they also offer second to none education. Led by Harvard Business School member Devlyn Steele, Augusta Precious Metal's education department is engineered to teach anyone the benefits of diversity. 

The opportunity to secure the financial future you want has never been more accessible, with the popularity of the internet anyone with a connection can buy their own gold and silver now. Better yet, they can head over to Augusta Precious Metals website and request a free guide detailing the fast, easy and reliable process. Don't wait on your future, check out what Augusta Precious Metals has to offer and make your future wait on you!
Gold IRA: Get This Guide to Learn All About It
Request the gold IRA guide that persuaded Hall of Fame quarterback Joe Montana to diversify his retirement with gold.