Minimum Purchase Recommended: $25,000
Annual Fee: Discuss with your representative as this may be reimbursed.
Storage Fees: Varies
Disclosure: Our content does not constitute financial advice. Speak to your financial advisor. We may earn money from companies reviewed. The owners of this website may be paid when you complete a form, click a link or call a phone number. The content on this website, including any positive reviews, may not be neutral or independent.
Gold and other precious metal IRAs are an investment and carry risk. Consumers should be alert to claims that customers can make a lot of money in these or any investment with little risk. As with any investment, you can lose money and past performance is not a guarantee of future performance results. Consumers should also obtain a clear understanding of the fees associated with any investment before agreeing to invest.
Our content is intended to be used for general information purposes only. It is very important to do your own analysis before making any investment based on your own personal circumstances and consult with your own investment, financial, tax and legal advisers.
Goldco is a precious metal brokerage company that specializes in silver and gold brokerage. Trevor Gerszt founded the company in 2006. Trevor's main goal was to establish a stable and secure way of investing in precious metals. Also, to help people create long-term treasure. Goldco offers its clients the unique experience of investing in silver and gold. 
Goldco helps its clients to convert their regular savings into IRA (Individual Retirement Account) accounts. They help in the transfer. Their main goal is to teach their clients about precious metal investments. They teach them to protect their retirement benefits by buying Gold and silver. Also, hold it outside their typical retirement accounts for long-term wealth creation. 
Investing with Goldco is a smart way to ensure that your finances are diversified and protected. Goldco offers a wide range of investment options, making it a great choice for those looking to invest in gold. While there are some cons to investing with Goldco (which we will get into later), the pros definitely outweigh the negatives.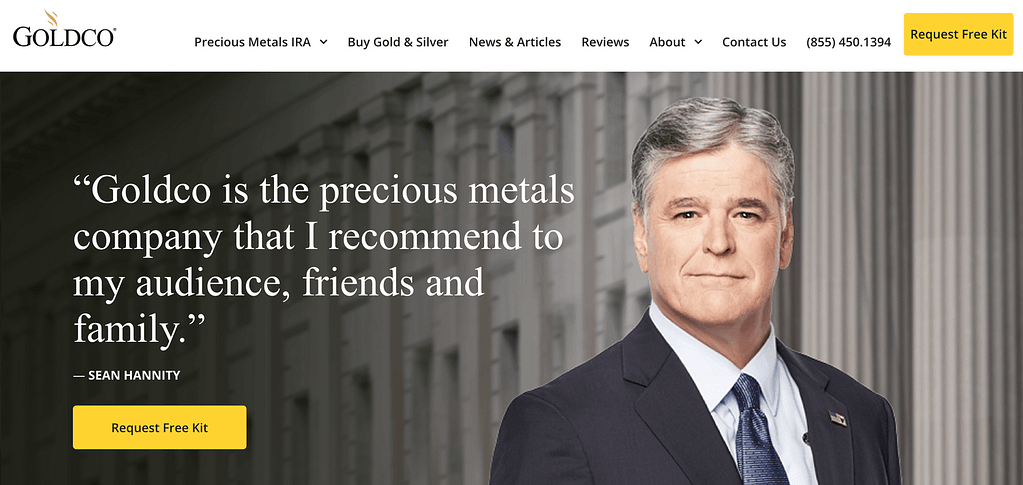 Key Features
Goldco has emerged as one of the precious metals companies. It's rated five stars and recommended by Sean Hannit. In 2021, Goldco received a national recognition award for the best company of the year. It is a reliable company that has helped many investors and clients. 
Goldco offers several services for its customers. Here are some of the services:
Precious metals IRA account services - Goldco will help you open your IRA account and fund the account with a rollover from your retirement account. They will advise you on a

depository

. 
Gold and silver coin buying services - Goldco helps you buy IRS-approved gold and silver coins. With the help of a specialist who coordinates the sale. 

Secure depositories services- Goldco don't keep your metals with them. Instead, they offer secure depositories according to your needs.
Specialist adviser services- a precious metals specialist is always available. To help give you the necessary advice at every stage, from buying to investing.
Rolling over services- They help convert your normal accounts into IRA accounts. Goldco secures the process by converting your savings accounts into IRA accounts.
Pros

Goldco has provided the best services in the precious metal industry over the years. Many reviews have ranked their services top in the market. Many Gold IRA companies and several daily shady deals are in the market. Goldco has proved to stay transparent and honest in this industry. 

In the process, they offer you the best customer service to keep you at ease. Opening a precious metal IRA (online or in-person) is straightforward, so get to it and enjoy your investment in peace. 

As a precious metals investor, it is essential to compare your options. But with the excellent customer ratings and reviews about Goldco online. It is easy to enjoy their services, and here is why:

Goldco has excellent customer service. Their employees are knowledgeable and treat each client with the utmost respect. Their excellent customer service makes them the best as it is easy to trust them. They also take you through a step-by-step process of account opening process.

They offer roll-over services to turn your account into an IRA account. They are relieving their clients of the stress of going through a process that may take time and money.

You can get cash from your IRA to deal with any family member emergency. You or your beneficiary can get distributions from their account for free at 59 ½ years. Yet, if you get allocations below 59 ½, you will need to pay the penalty.

They specialize in gold IRAs and silver IRAs which are unique for customers. These precious metals are an excellent way for investors. It helps them balance unstable stock investments and the fixed income market.

They offer complete brokerage services- Goldco offers all the brokerage services. The comprehensive services keep the client from looking for other services elsewhere. They ease the buying and selling process. They do the paperwork and help the clients roll over their retirement accounts into IRAs.

They have over 15 years experience- With experience in the precious metals industry. Goldco guarantees its client's safety and knowledgeable investments. Goldco also offers retirees an investment option of rolling over their retirement accounts. They then turn them into IRA accounts.

Their specialists will also help you find the best storage facility of your choice for safe-keeping. They keep your investment in safe depositories in the country and even overseas.

Their client base is high, as is their customer satisfaction rate, encouraging potential clients to feel secure and at ease with Goldco. They also guide you through the purchasing process of your precious metals.

Their website offers a lot of online resources for your information.

Goldco takes its clients through a buyback program. This program allows their clients to sell their precious metals in the market.
Cons

Even though Goldco is a large organization with experience, you will always find unsatisfied customers at one point or another. Goldco takes complaints and tries to find a way to solve any customer dissatisfaction. 

Many clients have complained that Goldco's minimum investment of $25,000 is too high. While this may be too high for certain clients, overall, this has not kept them from investing in Goldco. Most clients invest in Goldco when they need golden investments.

Some clients have complained about the rules set for withdrawal. At the same time, you can withdraw from your IRA at any particular time. Yet, if you do so before reaching 59.5 years, you will pay a 10% penalty. This penalty is not intense, though it is naturally something that clients would hope to avoid as far as possible.
Goldco reviews and complaints

Customer reviews can help you decide whether to become a customer of a business. To find out what people think about Goldco, we turned to the most commonly trusted sources online. This is how things looked at the time this article was written:

Better Business Bureau

BBB gave Augusta Precious Metals an A+ rating based on 357 reviews, with an average rating of 4.84/5.

Business Consumer Alliance

Goldco achieved a AAA rating and five stars from the BCA.

Trustlink

Goldco received a 4.9-star rating from Trustlink based on 796 reviews.

Google Reviews

Augusta's Google Reviews rating was 4.9/5 based on 990 reviews.
Final verdict

The investment markets, especially the stock markets, have become very volatile. The reserve finds it hard to deal with inflation that keeps the markets swinging. Investors are looking for other ways of investing, and this is where Goldco comes in. Goldco provides a unique experience of investing in silver and Gold through IRA. 

Investing in Gold and silver is a fantastic way to diversify your investments. This method of investment helps you reduce the risks of vitality. Goldco helps protect your wealth over a long period. With Goldco's vast experience in the precious metals industry, their expertise allows them to guide you through the necessary investment decisions.

Goldco is a great choice for those looking to invest in gold. It offers a wide range of investment options, flexible investment plans, and is a well-established and reputable company. However, there are some downsides to investing with Goldco that you should be aware of before making your decision. Be sure to consider the pros and cons carefully before deciding if Goldco is right for you.