Weighing the Pros and Cons of Investing With Birch Gold Group
Minimum Purchase Required: $10,000
One-time Fees: $50 setup, $30 wire transfer
Annual Fees: $100 storage, $100 management
(Note: Can vary by custodian)
Disclosure: Our content does not constitute financial advice. Speak to your financial advisor. We may earn money from companies reviewed. The owners of this website may be paid when you complete a form, click a link or call a phone number. The content on this website, including any positive reviews, may not be neutral or independent.
Gold and other precious metal IRAs are an investment and carry risk. Consumers should be alert to claims that customers can make a lot of money in these or any investment with little risk. As with any investment, you can lose money and past performance is not a guarantee of future performance results. Consumers should also obtain a clear understanding of the fees associated with any investment before agreeing to invest.
Our content is intended to be used for general information purposes only. It is very important to do your own analysis before making any investment based on your own personal circumstances and consult with your own investment, financial, tax and legal advisers.
Birch Gold Group is a financial service company built around its customers. Serving clientele in all 50 states across America, this institution provides a stable and reliable way to invest in gold. Retirement planning is a delicate process that isn't easy, especially when the economy isn't the best. Put your future in the hands of experts; Birch Gold Group is staffed by a dynamic team of former wealth managers, financial advisors, and commodity brokers.
This diverse array of specialists lends to the Group's strengths. One of their biggest features is their education section, an entire portion of their business dedicated to teaching their customers everything there is to know about investing in precious metals. Most Americans have had very little to no chances to be able to learn about investing into their retirement, even fewer have been introduced to the benefits of precious metals. Birch Gold's free investment kit even comes with 20 pages of literature on precious metals, giving every investor the ability to take their financial future into their own hands.

Why You Should Work With Birch Gold Group
One of the most important things to look out for with any investment group is transparency. Investors should know how their money is being used and have the ability to ask questions. Birch Gold Group maintains this same standard, stating that they will make sure every customer knows all options available to them at any given time. Clients are always encouraged to express any objections, concerns or general motivations to their investing advisor as well. Openness at this level should be on any potential financier's watchlist. Not only does the Group offer exceptional customer service and education programs, they also offer concrete solutions as to how to put precious metals into your retirement portfolio. 
They offer several different metals for prospective investors to include in their portfolios:
Gold: When it comes to investing in precious metals, the gold standard is well - gold. Gold has been a way to store wealth since it was discovered thousands of years ago, giving investors one of the most unique opportunities on the market. Not only does gold have a storied history that can be followed and studied, it is one of the best hedges that an investor can purchase to protect themselves from inflation. According to

Jaspar Crawley

at CAIA, "

Gold can be a valuable component of an inflation-hedging basket. Our research additionally divulges gold as a protector of purchasing power in the long run against more than just the price of goods and services.

" The market has been nothing short of turbulent lately and that's only going over the last few months, if you're looking for long term stability in your portfolio gold is the answer. Gold is also a physical asset, allowing investors to hold and maintain their very own gold coins and bars at their private residence. There are several different gold coins and bars a buyer can own and hold at any given time, some of the more popular options Birch Gold Group sells are:

Valcambi CombiBar

: The Valcambi CombiBar is a great investment opportunity for anyone looking to share their wealth. The CombiBars come with perforated edges, giving one bar the ability to be split up into 50 equal pieces without any risk of losing material. This is a great precious metal for buyers to keep in their own possession as well as it is easily stackable and shapeable. You can sell it all at once or piece by piece, however you like!

American Buffalo

: The American Buffalo gold coin is a staple of precious metal investments, being the first fine gold coin to be in large circulation in the history of the U.S. mint. Author

Baruch Mann

writes that the Gold American Buffalo is one of the most popular and greatest coins to buy to hedge against inflation. Because of its popularity and widespread circulation, investors should never have a problem either buying or selling this currency.

Silver: The second most popular precious metal, silver is also a great investment opportunity for anyone looking for diversity in their portfolio. Birch Gold Group sells a variety of IRA eligible silver coins and bars, giving customers a selection to choose from. While customers may have different options as far as what form of silver they choose, one aspect of silver is certain: its consistency.

Barbara Stefanovska

affirms that silver offers protection, privacy and it won't break the bank like its partner gold could. As silver is a physical asset, it does share the benefit of being able to be held at home. Some of my favorite silver assets on sale from Birch are:

The American Silver Eagle Proof

: The American Silver Eagle Proof is a unique investment as it is not currently in circulation like its bullion counterpart. On the back of each and every one of these coins is the strike of the mint from which they were issued. Birch Gold Group also reminds us that, "The American Silver Eagle proof coin is the only limited-edition silver coin that you can place into a Precious Metals IRA."

 

 

Silver Bars and Rounds

: Silver Bars and Rounds are a more traditional investing path than the Silver Eagle Proof as they are more common and currently in circulation. Silver Rounds are actually issued by private corporations, not the government. Silver Bars are much more popular as they come in a variety of sizes and their uniform production allows them to be stacked and stored with ease. This is a great option for an investor who wants to hold some of their own precious metals at home but may not want to invest so heavily in an asset as expensive as gold.

Platinum: Platinum has a storied history as an investment, 20 years ago it was worth almost double gold and now they're only a couple hundred dollars apart. Does this mean platinum is not a worthy investment? Of course not, its real world usage and rarity help it keep its high value. Platinum is essential in catalytic converters and auto emission control, according to

Ben Smye

. This real world usage will always give buyers a reason to look at the shiny metal and it will always give it tangible value. As platinum is not as common as gold or silver there are less variations of product customers can choose from. Nonetheless, Birch Gold Group does offer some on their site:

Platinum Bars and Rounds

: If you're looking for platinum to go into your Precious Metals IRA, look no further. This eligible investment is usually printed privately, adding to its unique aura and designs. Platinum Bars are just like their silver and gold counterparts in that you can store them and stack them with ease. While many investment firms like Birch Gold Group recommend sticking with them in terms of management, you are more than free to have them ship the bars straight to your own private Fort Knox

Palladium: Palladium is the rarest precious metal investments we're covering today. Very few governments mint this metal, adding to its rarity on the market. As its price point is generally lower than platinum, many investors find palladium to be a much more accessible high-end investment. Luckily high production standards surrounding palladium give it the ability to be placed into a Precious Metals IRA as well. Again, while palladium is rare that doesn't stop Birch Gold from finding a way to give investors an opportunity to buy:

Canadian Palladium Maple Leaf

: The Canadian Palladium Maple Leaf is one of the only government minted coins made from palladium. This adds to its rarity and gives investors another reason to look into adding it into their portfolios. As stated above, there are rigorous standards that surround the creation of these Canadian coins to make them Precious Metal IRA eligible. This is a great purchase for anyone looking for something fresh and one of a kind.

Palladium Bars and Rounds

: The standard of all precious metal investing, bars and rounds again make their way onto the retirement scene, this time in the form of beautiful palladium. As they do come in a standard shape and size, palladium bars are easy to keep, store and stack. If you're looking to buy palladium to keep at home, this is the most sensible way of doing so.

Education: While not technically a precious metal, the information provided by Birch Gold Group is invaluable. By going on their "

why precious metals

" page, we can see the various reasons investors should be partaking in their own mini gold rush. Gold is highly liquid, its worth comes almost entirely from its weight and metal content. This is great for investors because it reinforces the fact that gold has a real, tangible worth. You can find the yellow metal all over the modern world, from electronics to dental tools, there's a reason it's called the "gold standard". Birch Gold also states that, "From 2010 to 2017, national central banks purchased an average of 459.6 tons per year". If that quantity isn't enough to make an investor want to buy in, nothing is! An increase in demand combined with a decrease in supply will only leave those with gold feeling like they really are getting a good return on their investment. Birch Gold Group also features free interviews with some of the top thinkers of the investing world, including Steve Forbes and Peter Schiff. Education mixed with a completely transparent approach gives Birch Gold Group the competitive edge investors should be looking for.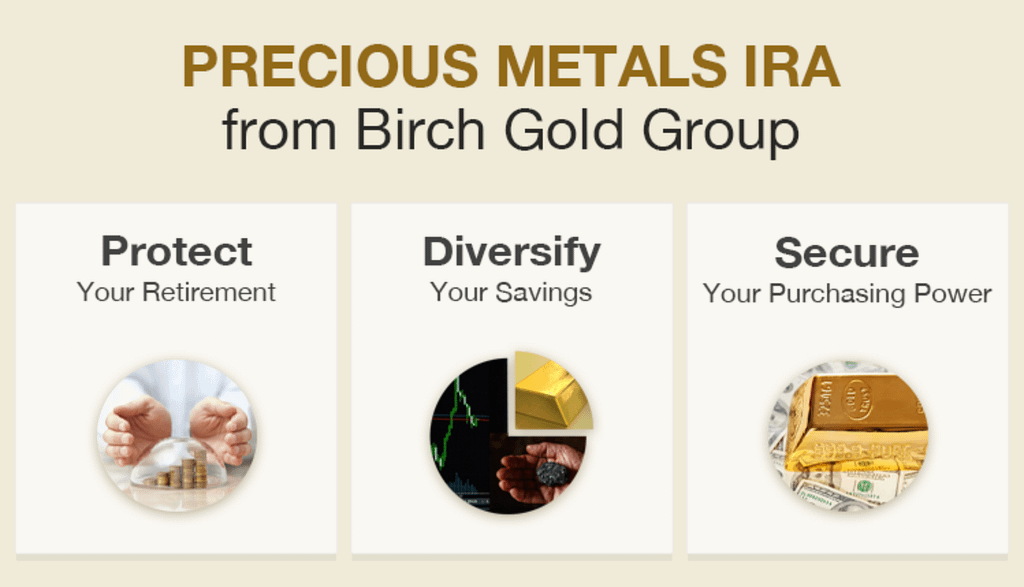 What To Look Out For Before You Buy
As with any investment, there are certain risks everyone should become familiar with before they put their money on the line. Firstly, precious metals are known to be a much less volatile expenditure than traditional market choices like common stock. This can be a positive for buyers who are looking for something longer term and stable, but bad news for those looking to strike it rich quick. Precious metals can be held at home, but most investment firms would look to recommend against that. While they will cover the cost of shipping and sometimes insure the package, it is always safer with an expert.
Gold and other precious metals are not necessarily always profitable as well. While a great addition to a portfolio, most experts say you should only ever have about 10% invested in metals. Birch Gold Group, like most investment firms, has fees associated with starting as well. The Group requires investors begin with at least $10,000. They also have a one time account set up fee of $50 and initial wire transfer fee of $30. The annual fees include a storage/insurance premium of $100 and $100 in management fees. On transfers over $50,000 however, Birch Gold Group will cover the first year fees.
Birch Gold Reviews, Complaints, & Disputes

This is how things looked at the time this article was written:

Better Business Bureau

BBB gave Birch Gold Group an A+ rating based on 65 reviews, with an average rating of 4.69/5.

Business Consumer Alliance

Birch Gold achieved a AAA rating and five stars from the BCA based on 7 reviews.

Trustlink

Birch received a 5-star rating from Trustlink based on 129 reviews.

Google Reviews

Birch Gold's Google Reviews rating was 4.9/5 based on 221 reviews.

Trustpilot

Trustpilot users give Birch Gold a 5-star rating based on 124 reviews. 

Consumer Affairs

Birch Gold Group achieved a 4.9/5 rating based on 114 ratings on Consumer Affairs.
The Final Review of Birch Gold Group

Birch Gold Group is a solid option for both entry level investors who are looking for a more guided opportunity and those seasoned by the market who are looking for diversification and added security. Their education section is second to none, while others charge hundreds or even thousands for one on one learning sessions with experts, the Gold Group offers them for free. You have access to the minds of Doug Casey, Steve Forbes and Floyd Brown all on their website! They also offer extensive articles on topics like "Physical vs. Paper Gold" and "Your Financial Advisor and Gold". 

While investors can purchase gold or other precious metal directly from the site and have them shipped to their home, they also have the options of opening a Precious Metals IRA and having Birch Gold Group hold and maintain their stock for them. This is what the Group recommends as shipping and even holding it in a private residence can be risky. Birch Gold stores your wares in a secure depository so you don't have to worry about anyone knowing about your brand new safe. 

Birch Gold Group will take the time to find out which investment opportunity is right for you. Through their transparent approach customers are more than encouraged to ask questions and assert their goals. No matter where you are in your financial journey, Birch Gold Group is built to get you to where you want to go. Request a free investment kit today and get to the financial future you've been waiting for!