What To Know Before Investing With Regal Assets
Disclosure: Our content does not constitute financial advice. Speak to your financial advisor. We may earn money from companies reviewed. The owners of this website may be paid when you complete a form, click a link or call a phone number. The content on this website, including any positive reviews, may not be neutral or independent.
Gold and other precious metal IRAs are an investment and carry risk. Consumers should be alert to claims that customers can make a lot of money in these or any investment with little risk. As with any investment, you can lose money and past performance is not a guarantee of future performance results. Consumers should also obtain a clear understanding of the fees associated with any investment before agreeing to invest.
Our content is intended to be used for general information purposes only. It is very important to do your own analysis before making any investment based on your own personal circumstances and consult with your own investment, financial, tax and legal advisers.
Are you looking for a new way to retire? A new way to invest in your future while still securing a present? Look no further than Regal Assets, a forward thinking company that has introduced the world's first Alternative Asset IRA. Dubbed the 'Regal IRA', this investment vehicle is one of the first to combine both precious metals and cryptocurrencies! 
Normally investors wouldn't associate those two commodities with each other; gold and other precious metals are normally known for their stability over a long period of time and cryptocurrencies couldn't be more different. That's where Regal Assets come in, their team of experts will look over your wants and needs as a client and find the perfect allocation for you.
Regal Assets sells in demand precious metals like gold, silver and platinum to give their customers options. They also have popular cryptocurrencies like Bitcoin, Ethereum and even Ripple. Their website is accessible as well, anyone looking for more information can get a free information kit right away!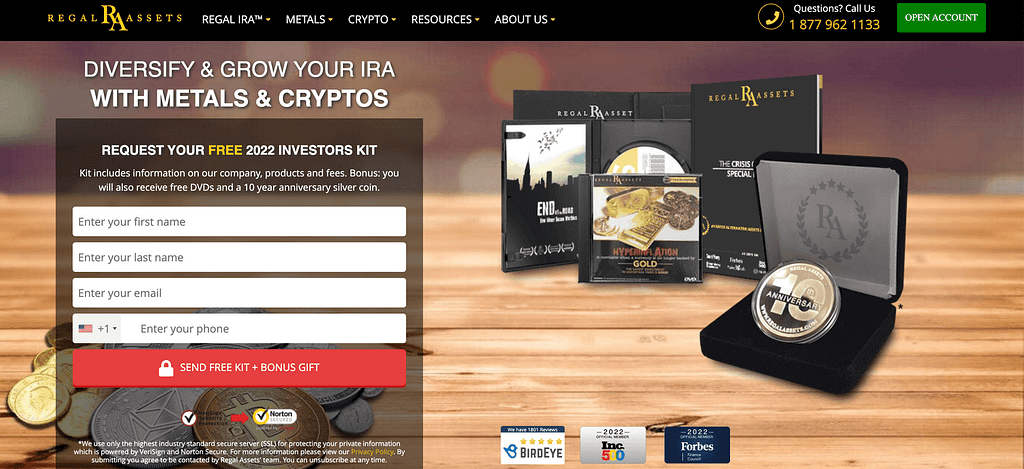 Why Investors Should Work With Regal Assets
Introducing an entirely new way to invest, Regal Assets excels at finding the right combination for their customers. Between several different precious metals and cryptocurrencies, any retail investor is bound to have a tough time knowing what's best for them. Regal Assets has extensive explanations as to what each product is to combat this issue. Buyers looking for more long term-stability may be interested in precious metals whereas investors looking for serious potential gains will want more crypto. Luckily, Regal has both: 
What To Look Out For Before Investing With Regal Assets
While most buyers tend to focus on the potential benefits of the investing world, they should be mindful of the downsides. First, not every investment is guaranteed to be profitable. Especially with cryptocurrency, investors should never buy assets they can't afford to lose.
There is never a guarantee in the market and most financial institutions would argue the best investors make room for losses. Regal Assets does not advertise their fee scheduling on their website. After some digging and calling I was able to find the information, but it certainly wasn't accessible.
Regal Assets precious metals IRAs have a yearly $100 administration fee and a $150 fee for precious metals storage. To transact on a crypto IRA, Regal Assets charges 1% with an annual storage fee also coming in at 1%. Prospective financiers will also be asked to spend at least $5,000 as a minimum for crypto, the same for precious metals.
For the Precious Metals IRA, buyers will have to spend $100 on an annual administrative fee and another $150 for an annual fee storing those precious metals. This fee doesn't come into play for investors looking to hold their assets at home, however. Despite the drawbacks, Regal Assets is a solid choice for any investor hoping for a unique diversity within their retirement portfolios.
In Conclusion - Regal Assets Review Final Verdict

In reviewing Regal Assets, I've found them to be a great place for investors looking to buy both precious metals and cryptocurrency for an applicable IRA. Not only do they have the two major investing vehicles but they also have recommendations for their prospective customers looking to see what options they have. 

They have gold, silver, platinum and palladium for their customers. Each of these precious metals comes in a variety of different forms as well, perfect for customizing the order you want. Experts in finance recommend investing in precious metals for a variety of reasons, some look at metals' extensive history as a commodity while others look to hedge their current positions against market volatility.

Cryptocurrency is new to the scene and Regal Assets is built to help you both understand the potential and buy into it! They have Bitcoin, Ethereum, Dogecoin and many more cryptos available on their website. While the group does maintain that investing in crypto can be risky, the exposure to the upside is more than worth it. By having Bitcoin or XRP in your portfolio, you may realize the same gains that got so many people into the crypto space in the first place.

Whether you're a veteran investor or a new customer looking to finally begin, Regal Assets is firm for you. They sell a variety of products geared to encourage financial freedom and transparency. Go to their site and get your free investing kit today!